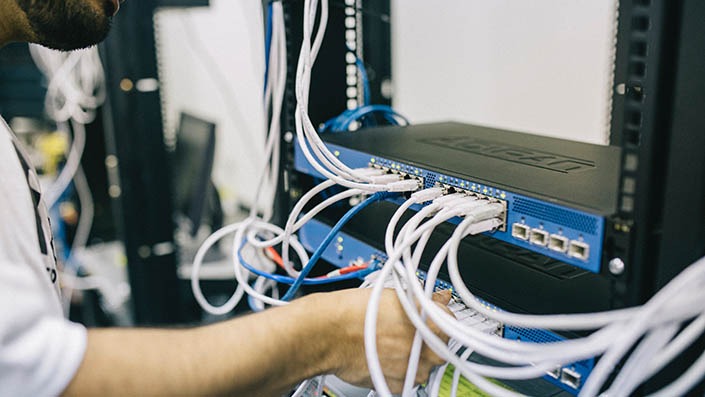 Don't get overwhelmed! Get smart with MicroRentals
Navigating the hardware of networks can be difficult and finding the right combination for your office can be even more difficult. With contemporary network equipment and brands as far as the eye can see, just finding a place to start can be tough. That's why at MicroRentals we have extensive knowledge to help you find the right arrangement of hardware to suit your company.
Meet our friendly, helpful and experienced sales team.
Our sales team are on the pulse of technology as they are always up to date with a broad range of tier 1 IT equipment. They will help you navigate through product price, warranties and servicing, giving you the whole picture of your purchase.
You choice is unlimited at MicroRentals as we have a vast selection. You can buy Switches, Routers, KVM's and Patch Cables from a stunning range of brands from Cisco to HP to Netgear to D-Link and more. All of which can be explained by our helpful and friendly staff. You never have to anywhere else to buy Routers and other networking equipment again.
For all your short term rental solutions, think of MicroRentals.
Buy Switches
Cisco Catalyst Switch, Cisco Nexus Switch, CISCO WS Switch, Cisco SF Switch, Cisco SG Switch. Branch Routers- Cisco 3900 Series Integrated Services, Multilayer Switches
Buy Routers
Our experts can provide you with a comprehensive selection of routers to help you create a more intelligent, responsive, and integrated network.
Cisco 3800 Series Integrated Services Routers, Cisco 2900 Series Integrated Services Routers, Cisco 2800 Series Integrated Services Routers, Cisco 1900 Series Integrated Services Routers, Cisco 1800 Series Integrated Services Routers, CLOUD Router: Cisco Cloud Services Router 1000V Series, Data Center Interconnect Platforms: Cisco 7600 Series Routers, Cisco 7200 Series Routers, Cisco ASR 1000 Series Aggregation Services Routers, Small Business Routers: Cisco 2900 Series Integrated Services Routers, Cisco 1900 Series Integrated Services Routers, Cisco 800 Series Routers, Cisco Small Business RV Series Routers, Cisco Small Business SRP500 Series Services Ready Platforms.
Buy KVM
HP ProLiant 0x2x16 KVM Server Console G2 Switch with Virtual Media and Common Access Card,HP ProLiant Server Console 0x2x16 Port Analog Switch, BELKIN Soho 4-Port VGA PS/2 & USB KVM Switch,BELKIN 19″ Widescreen LCD Rack Console w/8-Port KVM,BELKIN Flip Wireless USB with Audio. KVM Switch,BELKIN SMB 8-Port Cat5 KVM Switch with Osd Daisy-Chainable PS/2 In/Cat5 Out,D-LINK 7-Port USB 2.0 Hub
Buy Patch Cables
BELKIN Cat6 Snagless Patch Cable, IBM Fiber Optic Cable LC-LC,BELKIN Cat5E Snagless Patch Cable
Cutting edge technology at cutting edge prices
For the biggest range at the lowest price with expert advice, just call MicroRentals today at 1300 790 650 or contact us.