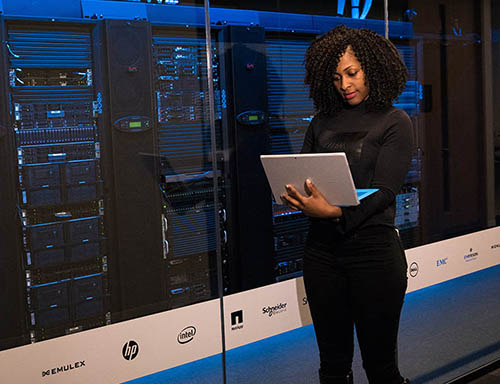 Protect and secure the future of your company today!
Has something been bugging you? Has somebody been phishing around in your company? If they have, would you even know it?
Viruses, trojans and other security threats have gotten smarter and smarter over the years and the technology has become so sophisticated that it can be difficult to sort out a computer blip from a real problem. But with MicroRentals, it's easy!
Leaders in enterprise-level IT security
MicroRentals are the leaders in IT security management and solutions. With experience extending back to 1987, we have been securing the networks of corporate and government clients for last 27 years.
Our engineers are also fully certified holding globally recognised and product specific qualifications. As the holders of Cyberoam Certified Security Professional (CCNSP) & Cyberoam Certified Security Expert (CCNSE), Cisco Certified Network Associate (CCNA) and Cisco Certified Network Professional (CCNP), we can proudly say we are prepared for every virus and internet security breach! Guaranteed!
Customised protection and a vast range of flexible options
Our recommended security solutions are configured to the needs and requirements of your organisation. For a quick preview of services that we provide take a quick view:
Reviewing and understanding your existing IT security solution
Designing and implementing security solution using latest technology
Deliver a complete security solution
Desktop, Server & Network security measures
Firewall, VPN, Anti Spam, Web Filtering
Intrusion Prevention System
Best of all you can add and take away features as we understand that as your company grows and evolves so does your internet security requirements. Providing you with the top internet security options and programs, you can always be safe on the internet with MicroRentals
Fast Quotation for Managed Services
Talk to professionals for all your managed services requirements!
Click Here