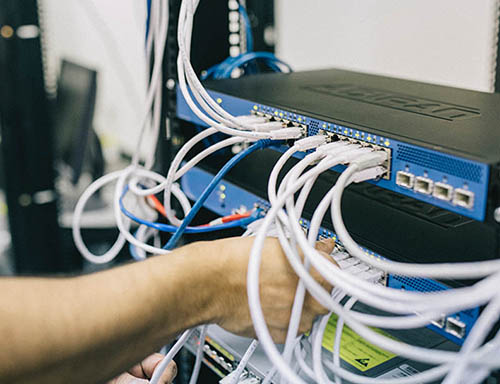 A network for every business – at highly competitive prices.
When it comes to network management MicroRentals is the IT company to call. Whether it is for small or large businesses MicroRentals can help you design, build, install and upgrade networks that are secure creating a efficient and productive work envrionment.
Trained, certified and up-to-date with the latest in IT technology.
MicroRentals network engineers are trained, certified and always up to date with the latest technology. With over 60 years of experience in designing and setting up networks for small business & corporate clients. 
Why not leave your network to the experts? MicroRentals staff are trained in detecting unauthorised activity on networks of any size. Screening for viruses, hacking and educating end users on phishing and other exploits, MicroRentals will keep your business one step ahead. MicroRentals can manage and monitor your network remotely, meaning your work will be uninterrupted while running network checks and fixes in the background.
MicroRentals offers a range of network services including:
Network design & implementation
Network Performance testing
Wireless Network design & implementation
Setting up VPN (Virtual Private Network) for your requirements
What Virtual Private Networking can do for you
MicroRentals offers an array of support plans which includes onsite and remote support, depending on your needs. By setting up a Virtual Private Network (VPN) we can help you connect to remote sites and access the data of various offices securely over the internet. All of this is set up in an economical and efficient manner. Set up a VPN with MicroRentals today and have the flexibility to work from anywhere you are.
MicroRentals use technology to solve your business problems. We leverage our staff's business and project management skills to create technology plans that help your company reach its full potential. Whether you need to set up wireless access for greater employee flexibility, protect your customer database, or plan for growth, our staff will design and implement a network plan that sets you up for success.
MicroRentals offer Network Support in the following areas:
Cost-effective network design
Ongoing network maintenance
Server installation and upgrades
Remote Access and VPN services
Fax and printer setup and support
Network and phone cabling
Fast Quotation for Managed Services
Talk to professionals for all your managed services requirements!
Click Here