Computer help desk IT support – on or off site.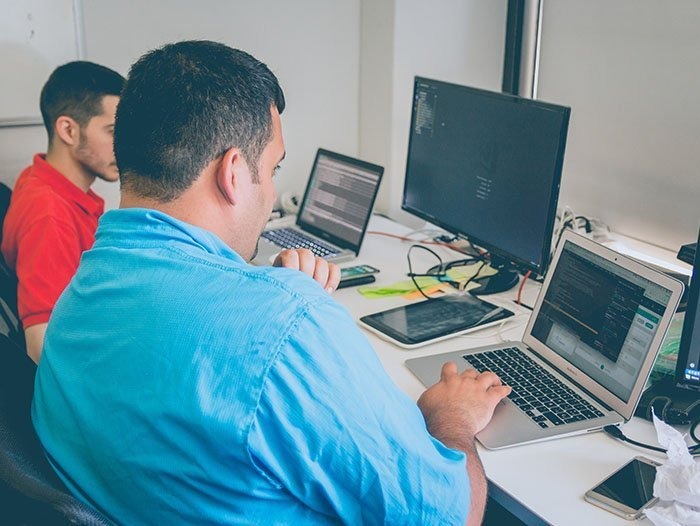 IT support for your business like no other.
MicroRentals provides IT help desk support for all your business needs, whether it is on or off site the experienced staff at MicroRentals can be at your location within a few hours. The team at MicroRentals are highly trained to work with different environments whether it be an in house server or cloud based solution to different brands and models of servers, laptops, desktop computers and printers from Apple macOS and iOS  to Microsoft Windows 10 & Windows Server, ranging from hardware to Internet network security and much more…
Off and on site help desk solutions:
MicroRentals offer a large selection of options for you to pick-and-choose what is best for you and you company. Take a quick peek at just some of our options:
Troubleshoot hardware & software issue
Whether you're having issues with your equipment, an application or operating software problem, MicroRentals will deploy staff to get it sorted quickly and efficiently.
Necessary software updates, including service packs
To keep your business operating smoothly, you'll need to be running the most important software updates. We take away any doubts with our upgrade management upgrades and even offer service packs to consolidate any needed permanent upgrades.
Hard disk defragmentation
To avoid unnecessary slowdowns or issues, our desktop support services include hard disk defragmentation to reorganise the files on your hard drive for increased performance. When you're operating a business, you need everything to be running smoothly — that's why defragmentation is so vital.
Checking the log files of desktops, laptops & servers
You always need to be aware of the several log files that can be overwhelming for a business. We run log file checks to give you an exact picture of relevant user information, event information, and the metadata to contextualise them — not to mention a clear idea of any transactions, errors, or intrusions. You'll never be out of the loop.
Solving network security issues
Network security is absolutely critical to any modern business's success. At MicroRentals, we take pride in our ability to safeguard you and your offices from any unwanted interactions, viruses, or attacks. There's no need to worry when you work with us.
Checking folder permission of servers
Folder permission monitoring for servers can be quite tedious and often difficult. We take the guesswork out of this process by going through the necessary processes with comprehensive attention to detail and giving you the peace of mind you need when working with confidential information assignments.
It is important to be efficient with your organisation's data. At MicroRentals, we deliver effective storage solutions in the form of backups and fail-safes so that all your data is secure and easily accessible.
Checking firewall rules and logs
You have to be on top of all security information and activity for the safety of your business. MicroRentals will check any firewall rules and logs so that you don't have to stress about the technical details — we have the experience that you need to keep your affairs in order.
Checking networking equipment (e.g. wireless routers)
We will run diagnostics and check every piece of network equipment that you have and help with any network setup as needed. As the IT solutions experts, we know what we are doing and you can rest assured that if there is an issue, we will provide you with a solution.
MicroRentals — the IT solutions experts
MicroRentals has been the premier corporate provider of rental solutions in Australia for private and government organisations for over 30 years. Our industry-leading equipment can save you and your organisation countless hours of unneeded stress and stop you from wasting money on overly expensive redundant equipment.
We don't just rent out valuable technology — our decades of experience in the field gives us the confidence to apply our knowledge to help you run a smooth operation. Not only will we rent out any vital equipment, but our staff are also available on call to run diagnostics, tests and implement anything that you need. Our desktop support services cannot be matched.
Fast quotation for managed services
Talk to professionals for all your managed services requirements!
Don't hesitate to contact us for any of your IT needs. We offer fast and reliable quotes for all desktop support managed services — there are no hidden costs or fees! If you have an IT problem, we have the solution.
Off and on site help desk solutions:
MicroRentals offer a large selection of options for you to pick-and-choose what is best for you and you company. Take a quick peek at just some of our options:
Troubleshoot hardware & software issues
Necessary software updates, including service packs
Hard disk defragmentation
Checking the log files of desktops, laptops & servers
Solving Network security issues
Checking firewall rules & logs
Professional & Friendly
You'll be amazed at the difference any one of these options can do for your business IT efficiency. MicroRentals will be more than happy and ready to give you any advice if you have any technical questions. If you are in the Sydney area we offer a free on site analysis of you office.
The staff at MicroRentals are professional and friendly when assessing your office. Providing you with competitive fixed cost quote for services that are compatible with your organisation.
Become a Support Plan customer and you will also receive discounted rates for your entire IT infrastructure needs during the term of agreement!
Microrentals offer clients onsite and offsite for I.T. Support. Keep your day-to-day operations running smoothly by having our experienced staff ready on call to provide onsite and offsite support when issues arise. MicroRentals clients enjoy quality support to ensure systems are running smoothly, whilst unanticipated issues can be dealt with via offsite remote desktop support, or emergency onsite support options.
Premium IT desktop support in Australia
In today's world, you must have an IT support partner you can trust to manage your critical IT infrastructure and business applications. MicroRentals has been supporting businesses across Australia for over 30 years.
We understand that each business is different, with specific IT needs and objectives. Our approach is simple — we take the time to understand your business, technology environment, and objectives before proposing the right solution.
Unlike other remoteIT desktop support providers, we don't outsource our support services overseas. All our engineers are based in Australia and will work with you to resolve any issue, big or small.
If you ever need on-site assistance, we can dispatch one of our techs to your office location. Whether you need a one-off visit or regular support, we have you covered. Our Sydney-based team can be there in person to resolve any issues you may be having within hours.
We'll take care of your IT so that you can focus on your business
MicroRentals has the experience and expertise to keep your business running smoothly, from server and desktop support to managed firewall and network security.
Our team of certified engineers can proactively monitor your systems 24/7, addressing any issues before they disrupt your business.
Hardware and software issues, server downtime, application and database errors and other IT problems can cost your business time and money. Revenue loss during IT downtime is estimated to average over $2,000 per hour and over $144,000 per hour for larger organisations in Australia.
Hiring an in-house support team can be costly, and often businesses don't have the budget to maintain a fully staffed IT department. Keeping on top of training, certification and staying up to date with the latest technology is an additional burden that many businesses can do without.
Our managed IT services will provide your business with the same level of support as an in-house IT team at a fraction of the cost. We'll take care of your IT infrastructure so you can focus on running your business.
Don't let your business fall victim to IT downtime
Contact MicroRentals today and find out how our premiumIT desktop support service can help you keep your systems running smoothly and anticipate and resolve problems before they disrupt your business.
With decades of experience working with businesses like yours, we have the knowledge and expertise to provide a comprehensive IT management solution that will support your organisation now and into the future.
Get in touch today to find out more about how we can help. We can visit your office and conduct a free IT health check if you're based in Sydney. Call us at 1300 790 650 or email [email protected] for a quote.
Top Notch Support
MicroRentals provide expert IT support for operating systems, desktops, servers, applications and network devices. To ensure business continuity, it is essential to employ a proactive IT company that can always deliver.
The qualified staff can resolve issues swiftly and professionally while minimizing interruption to your business thereby improving productivity and efficiency.
We support the following Operating Systems
We support the following Server Systems
We support the following Application Packages
Backup & Recovery Solutions
We support the following Network Infrastructure Vendor Devices
Fast Quotation for Managed Services
Talk to professionals for all your managed services requirements!
Click Here