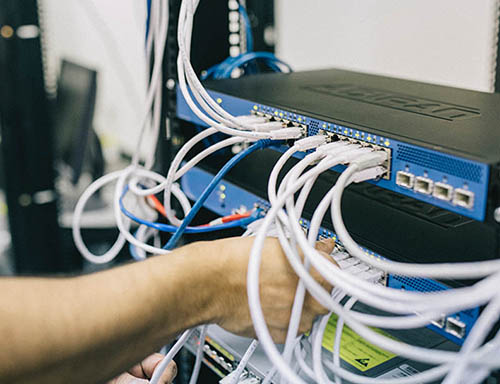 A network for every business – at highly competitive prices.
When it comes to network management MicroRentals is the IT company to call. Whether it is for small or large businesses MicroRentals can help you design, build, install and upgrade networks that are secure creating a efficient and productive work envrionment.
Trained, certified and up-to-date with the latest in IT technology.
MicroRentals network engineers are trained, certified and always up to date with the latest technology. With over 60 years of experience in designing and setting up networks for small business & corporate clients. 
Why not leave your network to the experts? MicroRentals staff are trained in detecting unauthorised activity on networks of any size. Screening for viruses, hacking and educating end users on phishing and other exploits, MicroRentals will keep your business one step ahead. MicroRentals can manage and monitor your network remotely, meaning your work will be uninterrupted while running network checks and fixes in the background.
MicroRentals offers a range of network services including:
Network design & implementation — We can design and implement a network that meets all of your business needs, both now and in the future.
Network security — Our network security team can remotely monitor your systems 24 hours a day, 7 days a week, acting quickly to deal with any threats that are detected.
Network management — With MicroRentals providing professional network management services, you can focus on your day-to-day business activities. Our team will make sure your network is kept up to date and in excellent working order.
Network support services — If you should encounter any issues with your network, you can contact our support team to request immediate assistance at any time of day or night.
Network performance testing — Let us audit your systems and test the performance in all areas of your network before making recommendations for any required improvements.
Wireless network design & implementation — As part of our IT network services to businesses in Australia, we can design and set up a secure Wi-Fi network for your corporate headquarters and/or branch offices.
Setting up VPN (Virtual Private Network) for your requirements — With a business VPN, remote workers and field operatives can securely log into your corporate systems from any location where they have access to the Internet.
What Virtual Private Networking can do for you
MicroRentals offers an array of support plans which includes onsite and remote support, depending on your needs. By setting up a Virtual Private Network (VPN) we can help you connect to remote sites and access the data of various offices securely over the internet. All of this is set up in an economical and efficient manner. Set up a VPN with MicroRentals today and have the flexibility to work from anywhere you are.
MicroRentals use technology to solve your business problems. We leverage our staff's business and project management skills to create technology plans that help your company reach its full potential. Whether you need to set up wireless access for greater employee flexibility, protect your customer database, or plan for growth, our staff will design and implement a network plan that sets you up for success.
MicroRentals offer Network Support in the following areas:
Cost-effective network design — When creating a new network design, we will focus not just on your requirements but on your budget too. We can design a network that maximises the return on your investment in IT systems.
Ongoing network maintenance — Our network management technicians will perform all required maintenance tasks to keep your network running smoothly, including software updates and security patches.
Help desk services — You can raise a support ticket with our help desk at any time, ensuring a swift response should you need our assistance.
Server installation and upgrades — We can remotely handle new server installations and upgrades, helping you to expand your network to cope with future business expansions.
Remote access and VPN services — If you would like to support remote workers, we can set up remote access and VPN services that enable employees in remote locations to log into your head office systems quickly and securely.
Mobile solutions — With many workers using smartphones and tablets to access business apps and services, a well-designed mobile solution is essential for many business networks today.
Fax and printer setup and support — Our IT network services in Australia cover all of your requirements, including the installation and configuration of network printers and fax machines.
Network and phone cabling — In addition to software installation and maintenance tasks, we can handle all of your network and phone cabling needs too. Our team will take care of everything for you, from brand new installations to upgrades and extensions.
Wherever you are located in Australia and whatever your specific network management needs, you can rely on MicroRentals to handle everything on your behalf. Our experienced technicians will keep your business IT systems running smoothly and make sure you have the support you need. Call now to discuss your requirements with one of our experts.
Fast Quotation for Managed Services
Talk to professionals for all your managed services requirements!
Click Here