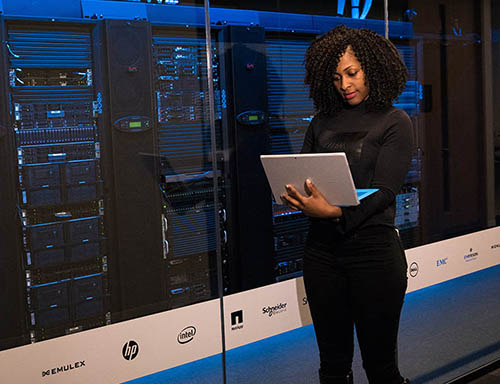 Protect and secure the future of your company today!
Has something been bugging you? Has somebody been phishing around in your company? If they have, would you even know it?
Viruses, trojans and other security threats have gotten smarter and smarter over the years and the technology has become so sophisticated that it can be difficult to sort out a computer blip from a real problem. But with MicroRentals, it's easy!
Leaders in enterprise-level IT security
MicroRentals are the leaders in IT security management and solutions. With experience extending back to 1987, we have been securing the networks of corporate and government clients for last 27 years.
Our engineers are also fully certified holding globally recognised and product specific qualifications. As the holders of Cyberoam Certified Security Professional (CCNSP) & Cyberoam Certified Security Expert (CCNSE), Cisco Certified Network Associate (CCNA) and Cisco Certified Network Professional (CCNP), we can proudly say we are prepared for every virus and internet security breach! Guaranteed!
Customised protection and a vast range of flexible options
From DDOS attacks to data security flaws, modern companies need to protect themselves from security vulnerabilities in order to complete mission-critical tasks and safeguard their data storage. With managed IT security services, you can outsource the task of protecting valuable intellectual property, employee and customer information, and other data insights.
Whether because of malicious attacks or inappropriately managed databases that have continued to grow with your business, data security flaws can quickly pose a risk to your company's day to day operations. Likewise, no system is perfectly secure without appropriate staff education and safeguards against human error. With IT network security services from MicroRentals, we'll take into account your existing security protocols, tailoring a solution that allows for your total protection even as you grow and expand operations.
Our recommended security solutions are configured to the needs and requirements of your organisation, with a view to giving you room to grow. We offer a full suite of services for a variety of industries, including:
Reviewing and understanding your existing IT security solutions and identifying vulnerabilities and opportunities for improvement.
Designing and implementing security solutions using the latest technology, including integrating this new technology with your existing IT infrastructure for seamless execution.
Delivering a complete security solution based on your present needs and with unlimited potential scalability.
Exploring and implementing desktop, server and network security measures for flawless day to day operation.
Integrating firewall, VPN, anti-spam and web filtering products to secure your system from deliberate attacks and inadvertent vulnerabilities.
Establishing an intrusion prevention system on which you can rely.
Implementing wireless security that's always on guard.
Best of all, you can add and take away features as we understand that as your company grows and evolves, so do your internet security requirements. Our solutions are tested against real-world conditions and designed to be resilient to human error and practical imperfections. By providing you with the top internet security options and programs that will actually work with the way you do business, you can always be safe on the internet with MicroRentals.
Managed IT Security Services
Security Products
MicroRentals work with a variety of different managed IT security services and products that can be easily integrated into your security system. These include:
World-class backup solutions, providing reliable and dependable hosting for organisations of all sizes. From password managers to hosting infrastructure, DataVault can help secure your business.
As inter-networking becomes a key part of doing business, it's not possible for IT services to manage every aspect of operations. NetSecure keeps you protected from firewall breaches caused by both flaws and misconfigurations.
While firewalls are the first line of defence for any network, their increasing complexity and potential configuration errors increase the likelihood of a cyber attack. FireSecure addresses these oversights by auditing firewalls for better cyber security hygiene.
A flexible, modular security system that works with your current security protocols, not against them. From monitoring to incident notification, analysis and remediation guidance, SecurePlus does it all.
Vulnerability Assessment and Penetration Testing allows you to preempt cyber attacks and other malicious activity, exposing weak spots in your security setup before they can come back to bite you. VAPT will identify potential threats, allowing you to develop a more threat-proof and functional system.
 As with so many security issues, human error remains a major weak spot in even the most logical security system. With PhishNet, regular education, reinforcement and assessment of staff helps to keep your confidential data safe from increasingly sophisticated phishing attacks.
Fast Quotation for Managed Services
When you need a team that's on guard for your business 24/7, look no further than MicroRentals. Our Sydney based secure IT service specialists will work with your organisation to seamlessly integrate the right products and protocols to bolster your current systems and protect your data and operations into the future. From software products to security audits, staff training and awareness to, phishing scams and the creation of good cyber security practices as part of your organisation's ethos, MicroRentals can handle it all.
If you're ready for managed IT security services that can scale with your business, MicroRentals are here with a customised solution for you. Talk to our security professionals and get a personalised quote today.
Click Here